I am SO thankful for the inspiration that our weekly Farm Share box yields in our kitchen. Do you think I'd ever pick up a Japanese Kabocha squash at No Frills? And without it, I'd never have stumbled across recipes like this one:
Kabocha Squash Pie (a.k.a. Japanese Pumpkin Pie)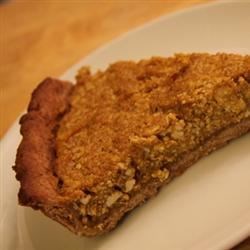 Ingredients
Crust
3/4 cup graham crackers, crushed
1/2 cup all-purpose flour
1/8 cup light soy butter
1 tablespoon soy milk
1/4 teaspoon ground cinnamon
Filling
2 1/3 cups kabocha squash - halved, peeled, seeded and cut into 1 1/2 inch cubes
2/3 cup silken tofu **Be sure you get the right kind of tofu**
1 teaspoon vanilla extract
1/4 cup white sugar
1/2 teaspoon ground cinnamon
1/4 teaspoon ground nutmeg
Directions
Preheat oven to 350 degrees F (175 degrees C).

Stir the graham cracker crumbs together with the flour in a mixing bowl. Mix in the soy butter until the mixture is crumbly. Make a well in the middle of the flour mixture. Pour in the soy milk, and stir to make a soft dough. Turn the dough out onto a lightly floured surface, and knead briefly. Wrap in plastic wrap, and refrigerate for about 20 minutes.

Roll out the dough onto a lightly floured surface to about 1/4 inch thick. Fit the crust into a 7 inch diameter pie plate. Use a fork to poke holes in the bottom.

Bake the crust in the preheated oven until pale gold, about 15 minutes. Cool on a rack.

Pour about 1 inch of water into the bottom of a pan. Place the kabocha into a steamer basket fitted into the pan. Bring to a boil, then reduce heat to medium, cover, and steam the squash until tender and easily pierced with a fork, about 15 minutes. Cool.

Place the kabocha into a blender or bowl of a food processer, and blend until smooth. Stir the tofu, vanilla, sugar, cinnamon, and nutmeg into the kabocha mixture, and blend until very smooth. Pour into the prepared crust.

Bake in preheated oven until center is set, about 20 minutes. Do not overbake or the filling will crack.
Source: http://allrecipes.com/Recipe/Kabocha-Squash-Pie-Japanese-Pumpkin-Pie/
I have yet to try it, but I'd love to hear from you if you do give it a shot.
Miss Greenish Thumb